Good morning Weavers, we have some exciting news to share with you today.
We'd like to start by expressing our sincere thanks for all the feedback over the last few months. We've taken this on board, made some significant changes, and we're more excited than ever about the future.
Today we are thrilled to announce our plans to build not one but two new versions of RapidWeaver. Yes, two separate apps; RapidWeaver Classic and RapidWeaver Elements. First, let's take a look at RapidWeaver Classic.
RapidWeaver Classic
The RapidWeaver you know and love is here to stay. We call it RapidWeaver Classic. It contains lots of new features and many bug fixes. Still, perhaps most importantly, it maintains **100% compatibility with all your existing plugins, themes, and projects.**We think you're going to love it.
RapidWeaver Classic will give users who love the current way of building sites with RapidWeaver and the plethora of addons reassurance that they can continue doing this for many years to come.
We have a clear roadmap with even more new features planned for RapidWeaver Classic, so all users can look forward to continued development, improvements, bug fixes and support going forward.
We've been using Classic full-time internally for a while, and it's a solid upgrade. We've given it to developers this past week to test, and the feedback has been great.
Here's a (very laid back) video we recorded for the beta testers that walks through what's new in RapidWeaver Classic. It was supposed to be just 5 minutes, but time got away from us, and it ended up being 25 minutes. Nevertheless, it's worth watching as there are plenty of interesting tidbits of information. You're probably wondering when you can get your hands on Classic? Well, we have some good news.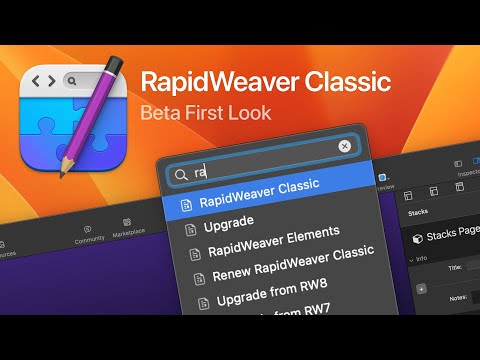 RapidWeaver Classic will launch next week on Tuesday 28th June!
We know you'll have many questions, so we've created a RapidWeaver Classic FAQ. It's part of the new manual we've also been working on.
RapidWeaver Elements
We're not going to spend too long talking about RapidWeaver Elements, as this month is about the launch of RapidWeaver Classic.
We will say this, though, our plans for RapidWeaver Elements have changed dramatically (and we really can't understate this). Having two versions of RapidWeaver allows us to make more impactful changes to RapidWeaver Elements.
Next Tuesday, when RapidWeaver Classic launches, we'll also be creating a new webpage about RapidWeaver Elements. On that page, you'll be able to sign-up to get early access for when it's available later this year.
Thank You
That's all for today's update, but before we sign off, we wanted to thank you for your support. We couldn't do this without you.
Here's to an even brighter future and many more years of Weaving!